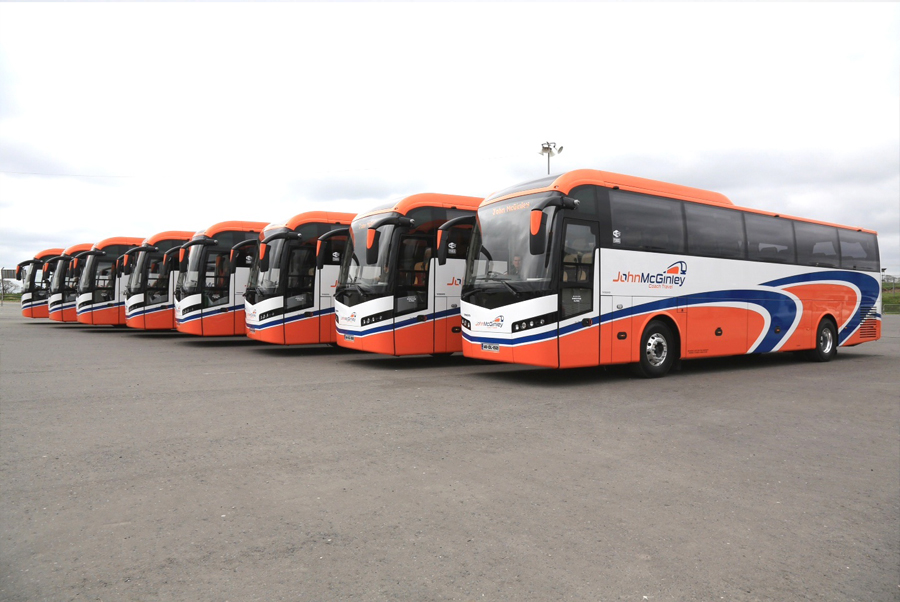 To ensure we cater to all your transport needs, as well as provide a great travel experience every time, we have invested significantly in a fleet of top-class vehicles to match our service.
Our coaches are designed to our specifications and built by Europe's top manufacturers.
Our modern fleet is consistently maintained by a team of engineers in our state-of-the-art facility.
From transporting groups of all sizes on our minibuses, mini-coaches and luxury full-size coach options, through to individual transfer in our chauffeur driven executive cars, we have a solution for all your travel requirements.
Get in touch here today to plan your next journey.
Executive 5* VIP coach - 49 Seats:
49 Part-leather reclining seats
Theatre style seating layout
Individual seat back tables
USB charging points at each seat
Tea/coffee making facilities
Cold drinks Fridge
Toilet /Wash-room
Air-conditioning
On-Board Wi-Fi  
TV & DVD entertainment
Air-suspension
GPS tracking
Approved to Irish Tourist board standards
Executive 5* coach - 53 Seats:
53 Part-leather reclining seats
USB charging points at each seat
Toilet/Wash-room
Air-conditioning
On Board Wi-Fi 
TV & DVD entertainment
Air-suspension
GPS tracking
Approved to Irish Tourist board standards
Executive 4* coach - 53 seats:
53 Part-leather reclining seats
USB charging points at each seat
Cold drinks Fridge
Air-conditioning
On-Board Wi-Fi
TV & DVD entertainment
Air-suspension
GPS tracking
Approved to Irish Tourist board standards
Executive 4* Megacoach - 65 Seats:
65 Part-leather reclining seats
USB charging points at each seat
Cold drinks Fridge
Air-conditioning
On Board Wi-Fi 
TV & DVD entertainment
Air-suspension
GPS tracking
Approved to Irish Tourist board standards
Executive 3* coach - 53 Seats:
53 Reclining seats
Air-conditioning
Air-suspension
GPS tracking
Approved to Irish Tourist board standards
Executive Mini-coach - 33 Seats:
33 Reclining seats
USB charging points at each seat
Cold drinks Fridge
Air-conditioning
On Board Wi-Fi
TV & DVD entertainment
Air-suspension
GPS tracking
Approved to Irish Tourist board standards
Executive Minicoach - 29 Seat:
29 Reclining seats
USB charging points at each seat
Cold drinks Fridge
Air-conditioning
On-Board Wi-Fi 
TV & DVD entertainment
Air-suspension
GPS tracking
Approved to Irish Tourist board standards
Executive VIP Minicoach - 24 Seats:
24 Full leather reclining seats
Tables
USB charging points at each seat
Cold drinks Fridge
Air-conditioning
On Board Wi-Fi 
TV & DVD entertainment
Air-suspension
GPS tracking
Approved to Irish Tourist board standards
Executive Mini-bus - 16 Seats:
16 seats
Soft Trim
USB charging points at each seat
Air-conditioning
GPS tracking
Approved to Irish Tourist board standards
Luxury Mercedes Saloon
Leather seats
Air-conditioning
In-car entertainment system
Mobile communications
Approved to Irish Tourist board standards
Luxury Mercedes Saloon
Leather seats
Air-conditioning
In-car entertainment system
Mobile communications
Approved to Irish Tourist board standards
Luxury Mercedes Saloon
Leather seats
Air-conditioning
In-car entertainment system
Mobile communications
Approved to Irish Tourist board standards